Member Mixer - Thanks!
Thank you to everyone that joined us October 27th for a social event at Roger's Liquid Oasis at the Edgewater Public Market (5505 20th Unit 100, four blocks west of Sheridan)! Look for other social opportunities coming soon!
Diversity, Equity & Inclusion and You
Thank you to everyone that joined us for Diversity, Equity, Inclusion & You, a Central Chapter Program. Given George Floyd's murder in 2020 and the ensuing social unrest, many companies have increase their investment and spending on Diversity, Equity and Inclusion initiatives. Why should companies invest in these programs? Why as a technical person should I need to know or care about Diversity, Equity and Inclusion? Come join us for a discussion about this topic.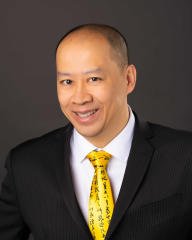 Our presenter was Khánh Vũ, Society of Asian Scientists & Engineers CEO and Executive Director.
Khánh and his family immigrated to the USA from Vietnam at the end of the Vietnam conflict. He graduated from the Colorado School of Mines with a degree in chemical engineering and three minors. Following graduation, he worked for Amoco. His passion for helping young adults and fondness for Mines led him back to be the Director of the Multi-cultural Engineering Program (MEP). He was part of MEP's inception in 1989 as a student and was instrumental in the founding of the Asian Student Association several years later.
As a Society of Asian Scientists & Engineers (SASE) volunteer, Khánh helped plan the 2011 National Conference. He joined SASE full time as the CEO & Executive Director in late 2011 and oversaw the doubling of the collegiate chapters and tripling of membership during his first year.
"Reaching New Heights" with Alan Mallory
Thanks to everyone that joined us for the virtual program Reaching New Heights presented by speaker Alan Mallory. If you missed Alan's presentation to NSPE-CO, he is presenting as part of PECon August 5th. Go NSPE.org for details on PECon,
Alan embarked on the journey of a lifetime and set a world record on Mount Everest along with three members of his immediate family. Following two years of planning, it was a two month expedition through some of the most exciting yet terrifying conditions imaginable and their success demanded an unwavering perseverance and resilience in the face of adversity.
Alan's dynamic program is built around this incredible experience. It is an engaging visual and educational journey packed with tools, strategies and innovative ideas that attendees can put into action to make positive changes in their professional and personal lives. Alan puts specific emphasis on maintaining a future mindset, adapting to challenges, mutual goals, overcoming adversity, empowering others, and developing professional relationships. It is an exciting and educational journey that keeps the audience on the edge of their seats from beginning to end.
Alan holds a degree in Engineering from Queen's University and a Masters in Psychology from Adler University. He is an international speaker, author and performance coach who is passionate about leadership and reaching new heights in all that we do. His unique philosophy of life revolves around empowering people and embracing an agile mentality focused on connections and results. By understanding what drives and motivates us, we are able to cultivate more innovative and effective ways of thinking and taking action. He has worked internationally with large organizations as a professional engineer and project manager developing patents and solutions to complex challenges in the mining and metals industry. Living and working abroad has given him the opportunity to deepen his understanding of individual and team challenges, better appreciate cultural diversity and successfully adapt to different organizational structures.